Each year, we dedicate a day to honor our mothers and all the wonderful mother figures in our lives, including wives, in-laws, grandmothers, and sisters. Mother's day is celebrated around the world but it's held on different dates, depending on the country. In 2022, this very special holiday will be observed in the US on Sunday, May 8th.
Traditions vary from country to country. In many U.S. households, Mother's day begins with breakfast in bed, homemade cards, or a bouquet of flowers for mom. In the UK, "Mothering Sunday" falls on the fourth Sunday of Lent so many people celebrate this holiday by going to churches. While in Japan, kids give fresh red or pink carnations to their mothers along with helping them with household chores. They choose this flower because, in Japanese culture, carnations symbolize love, purity, and endurance.
We may have different ways of showing our love and how grateful we are to our mothers but one thing remains the same – we wanted to make this day extra special for the most special woman in our lives. So we spend so much time thinking of the best present to give. But many of us might still have a hard time deciding what gift to choose. That's why we prepared a list of unique and healthy gift ideas that our moms will surely love!
Calm and balance for the hard-working moms!
Let's face it, a mother's responsibilities never end. Whether you are a stay-at-home or a working mom, sometimes 24 hours are not enough to accomplish all the day's tasks and chores. That's why most of the time, mothers are tired and stressed out.
Health is wealth and the best gift to give one of the most precious people in our lives? The gift of good health. On Mother's day, why not give her a bottle of CBD Oil to help her be calmer and more balanced.
Our line of CBD oils is rich in antioxidants and anti-inflammatory properties making them the perfect supplement to alleviate anything from inflammation and pain to stress and anxiety. With many flavors and strengths to choose from, our moms will definitely benefit from this wonder oil.
For the moms that love skincare: CBD facemask collection
Pamper your mom this Mother's day by gifting her with a CBD face mask collection. Every once in a while you hear your mom saying that she has no time for herself. Remind her that self-care is necessary and is an important part of being a mom. It helps her reset, feel appreciated, and de-stress. 
Skincare is part of our physical self-care and busy moms don't have time for a 10-step beauty routine. That's why our CBD face masks are perfect for moms that are always on the go! It is packed with natural ingredients that are suitable for any skin type. CBD rich in antioxidants and anti-inflammatory properties proved to support healthy and young-looking skin.
For the moms that enjoy bath times: CBD:CBG bath bombs
If your mom loves a warm and relaxing bath after a long day, our CBD and CBG bath bombs are the perfect present for her. Our bath bombs are created with all-natural skincare ingredients without any harsh chemicals, heavy metals, or artificial dyes. By combining the power of CBD and CBG together with carefully selected essential oils, we came up with a formula that will not just repair, hydrate, and make the skin healthier and smoother but may also help relieve chronic pain and inflammation.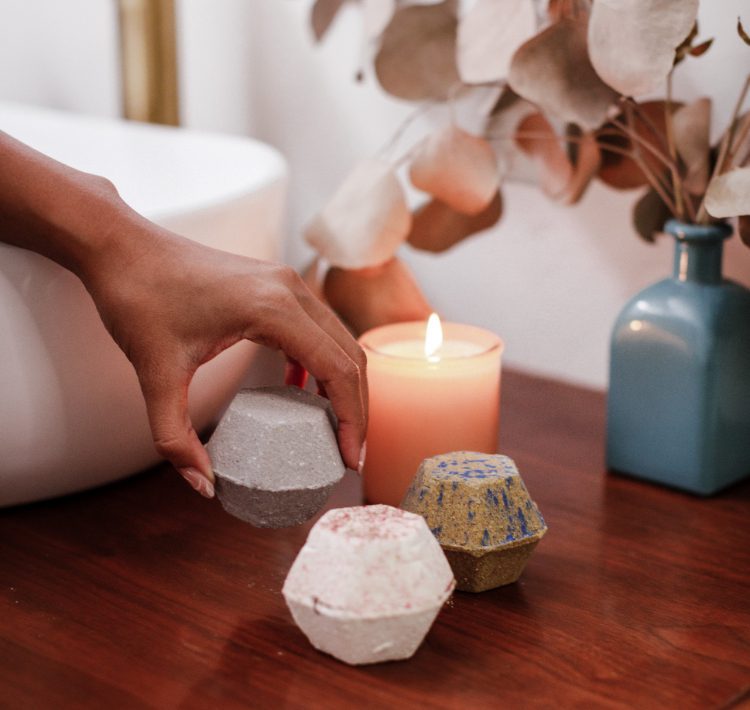 For the tired mamas that need quality sleep: CBN Gummies
On average, adults should get between seven to nine hours of sleep each night. Unfortunately, most new parents, especially new moms lose sleep after the first baby is born. This is because of a number of reasons and it doesn't end when the child gets older. 
If you are looking for a thoughtful present, our CBN gummies are a no-brainer. CBN is a minor cannabinoid with calming and sedative effects supporting restful sleep. Our CBN gummies are sweet little treats, perfect for bedtime! They are made with all-natural ingredients and whole hemp extract.
Conclusion
Mother's Day is the perfect occasion to recognize all the hard work and sacrifices of all the moms in our lives. Whether it's the woman who gave birth to you, raised you, your grandma, your sister, or your mother-in-law, they deserve nothing but the best. So on this special day, give them the gift of wellness and self-care with the help of our Mother's Day 2022 gift ideas – she'll love it!
Shop our CBD Hemp Products