Full spectrum Gummies
Introducing our Full Spectrum gummies with delta-9 THC! A fully  compliant product that is legal in the United States and many  countries around the world. Now you can get the benefits of THC  without going to your local dispensary! Each one of these delicious vegan gummies contain 5mg of Delta-9 THC and a 20mg blend of six other cannabinoids including CBD and CBN. Whether you are looking  for a natural product for sleep or a gummy that will help you manage  stress – this is the THC gummy for you! Our incredible hemp oil is  extracted from USA grown hemp and each gummy contains <0.3%  delta-9 thc on a dry weight basis. This product is not recommended  for anyone under the age of 21.
Suggested use: Take 1 gummy as needed to support a healthy endocannabinoid system. Do not consume this product if you are concerned about consuming Full Spectrum Hemp containing any amounts of delta-9 THC. The dosage for each individual will vary. We recommend starting with 1 serving. We also suggest taking notes of any improvements the product has had on your overall health.
100% vegan, organically-grown hemp-derived extracts, and all – natural ingredients.
Active ingredients: Full Spectrum Hemp Extract + delta-9 THC. Other  ingredients: cane sugar, tapioca syrup, distilled water, pear juice  concentrate, citric acid, organic coloring, all-natural flavoring.
We use 3rd party laboratory to ensure every batch of our products for consistency, purity, and potency.
See Certificate of Analysis here
* These statements have not been reviewed or approved by the FDA. Our products are not intended to cure or treat any illnesses. Please always consult your healthcare provider and use it at your discretion.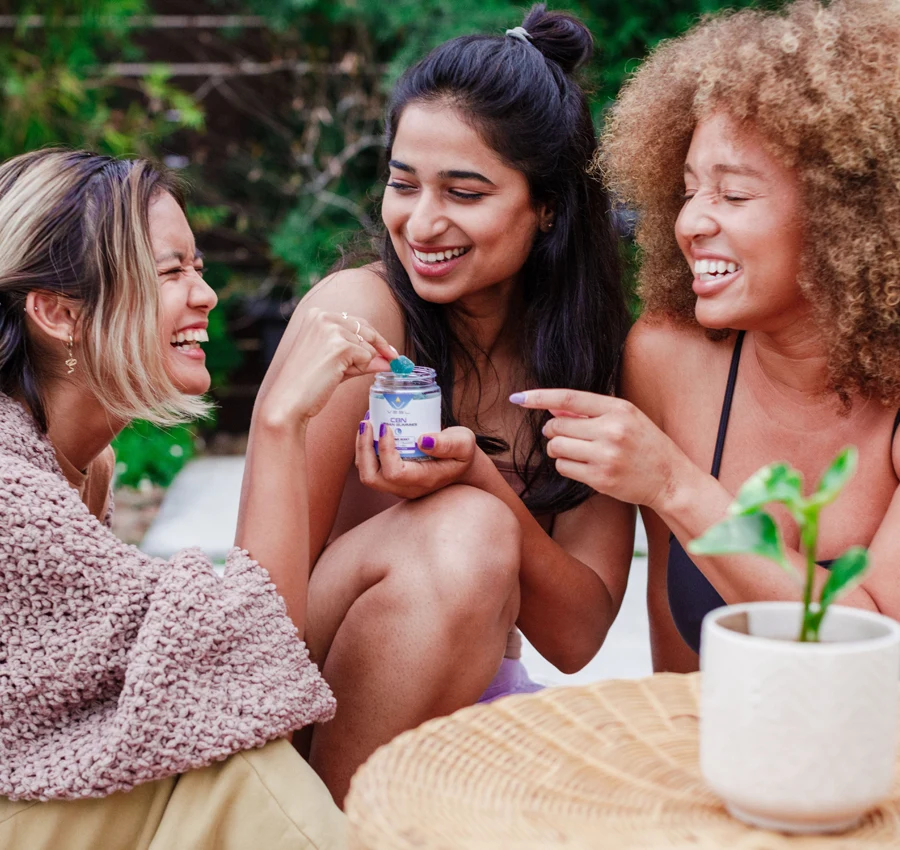 THC GUMMIES, THE FEEL GOOD GUMMIES
Delta-9 Tetrahydrocannabinol (THC) is a naturally occurring cannabinoid found in all cannabis & hemp plants. THC is a psychoactive compound that the plant produces in abundant quantities. This medicine has been used by every civilization in know history, dating back thousands of years. Our bodies are designed to function on the consumption of cannabinoids and the benefits that delta-9 THC may have on your internal systems that play a crucial role in your central nervous system.
Delta 9 thc is not the only amazing thing about these thc gummies. Our all-natural hemp oil contains over 7 different cannabinoids that will work together to help you stay happy and healthy . These full spectrum gummies will help you maintain homeostasis and may help improve your mood or sleep patterns.
Cbd Gummies Faq
Full Spectrum Hemp Oil is a highly re fined extract that comes  from high-quality hemp flowers. The term "full spectrum" means that this extract is in its most "full" form and contains everything that was  naturally derived inside those hemp plants. As a naturally occurring compound in cannabis and hemp this term typically refers to the oil  containing delta-9 THC.
In essence, yes. However 'high' is a negative connotation of how these gummies will actually make you feel. Yes, you will feel the effects of THC, however, at a mild dose, this can be very therapeutic in many ways. Euphoric, relaxed, calm – these are better terms.
These gummies contain delta-9 THC which is unfortunately regulated by many institutions in the United States. If you are concerned with delta-9 THC being present in your system on a personal screening – do not consume this product.
Yes you can! This product is legal under the Federal Farm Bill and contain THC that is derived from hemp.
This product will ship to any location where the sale and transport of full spectrum hemp products is allowed. This is most places on the planet at this time, however please research the legalities in your state to be sure.
Try one gummy to start. Each piece contains approximately 5mg of delta-9 THC and over 20mg of additional cannabinoids. This blend will effect every one differently. The effects may also take time to set in; therefore, we recommend consuming no more than a single serving before you have established your tolerance for Full Spectrum products containing Delta 9 THC.
*These statements have not been reviewed or approved by the FDA. Our products are not intended to cure or treat any illnesses. Please always consult your health care provider and use it at your discretion.