Only plant-based ingredients
Nourishing and moisturizing formula
Naturally scented, no chemicals
Key Ingredients and Benefits
Activated Charcoal
Helps pull oil and dirt out of pores
CoQ10
Fights the signs of aging skin
Jojoba Oil
Great antibacterial properties and moisturizes the skin
Mustard Seed Powder
A powerhouse of vitamin A, C, and K. Full of natural carotene
Tumeric Root
Anti-inflammatory and brightens skin
CBD + CBG
Anti-inflammatory & Antibacterial properties
Full Ingredients
Ingredients: Baking Soda, Citric Acid, Corn Starch, Tartaric Acid, Jojoba Oil, Epsom Salt, SLSA, Allantoin, Mustard Seed Powder, Activated Charcoal, Distilled Water, Essential Oil Blend (Pink Grapefruit, Bergamot, Mango), Silk Peptide Powder, Turmeric Root Powder, CoQ10, CBD (cannabidiol), CBG (cannabigerol), Polysorbate 80CBD, CBG.
1:1 CBD and CBG bath bomb. A One of a Kind Formula
A whole new take on a bath bomb. In this case, the combination of CBD and CBG, and other natural ingredients, make this bath bomb unique and the first of its kind. CBD and CBG can be absorbed through the skin and will give you soft, clear skin and take your stress away!.
The best CBD Bath Bombs
You deserve nothing but the best! Our bath bombs are formulated with pure CBD and CBG and zero THC to deliver the best benefits possible while giving you a relaxing  bathing experience.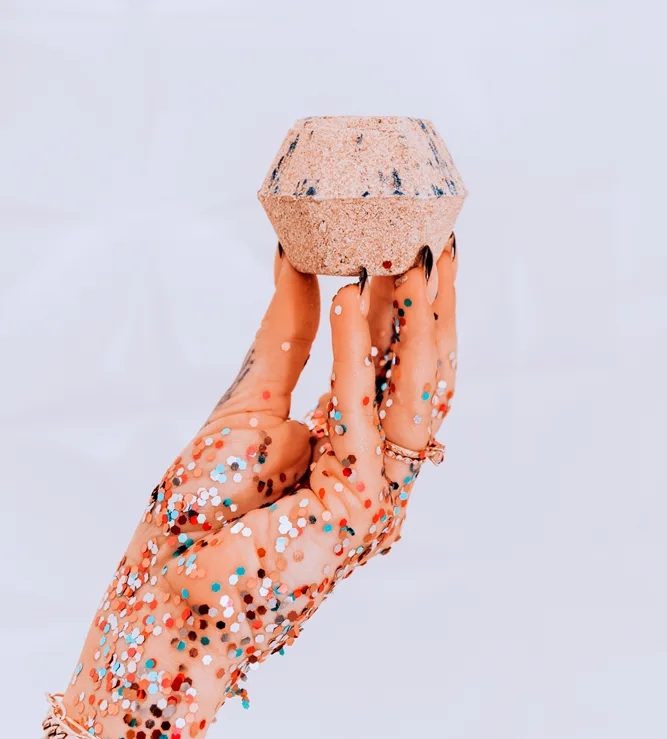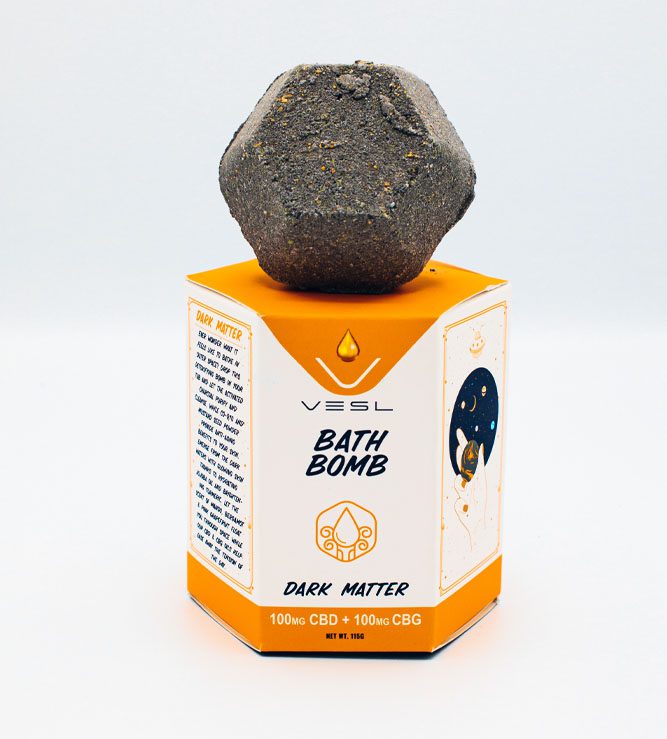 Natural bath bombs!
At Vesl we believe that all remedies are found in nature. That's why we continue to research and combine natural ingredients that can act in synergy to provide you with the best benefits. Pure CBD oil and CBG oil together with key ingredients harvested naturally has been formulated to create the best bath bombs on the market!
Have Questions on Dark Matter Bath Bomb?
Bath Bomb Faq
We all love taking a relaxing hot bath and a bath bomb is the perfect addition to your bathing experience. Our bath bombs not only give you the spa feeling but also give you a premium skincare experience while helping your muscles relax and recover.
Simply unwrap the bath bomb and add it to the warm water in your bathtub, before or anytime during your bath. Let the essential oils and foam treat your body and mind. Enjoy!
Bath bombs are a combination of dry ingredients and oils. This mixture is usually compacted with mold and dried for 24 hours. The basic ingredients are Epsom salt, citric acid, a carrier oil, and essential oils. Our bath bombs are packed with cannabinoids, essential oils, natural ingredients like aloe vera and jojoba oil, and they are zero THC!
It depends on the quality of the product, size, and temperature of the water. Vesl CBD and CBG bath bombs last between 1'5 and 2'5 minutes until is completely dissolved.
Several studies have shown that cannabinoids are high in anti-inflammatory and antioxidant properties. Our bath bombs are packed with 100mg CBD and 100mg CBG.
(https://www.ncbi.nlm.nih.gov/pmc/articles/PMC4851925/)