Organically grown and locally produced
Good vibes only. Love it or send it back
All natural ingredients. No chemicals
Fast shipping and delivery
CBD + IMMUNITY GUMMIES
Are you looking for an all-natural immune support to improve your overall health and wellness? This is the gummy for you! Formulated with 100mg of Natural Elderberry extract in each serving, this vegan gummy will help you kick those sniffles and help your immune system stay strong for the fight. With a broad spectrum of cannabinoids, CBG & CBD work together to kick-start your endocannabinoid system which also helps the immune systems in your body stay active. The health benefits of Elderberries are well know & when paired with cannabinoids this magical pairing is unmatched! This gummy not only works – it tastes AMAZING! This product needs to be on your countertop or in your medicine cabinet. Take daily to keep your body strong and fighting.
Suggested use: Take 1 serving as needed on a daily basis to support a healthy immune system. Each serving contains 100mg Elderberry Extract & 30mg of Broad Spectrum cannabinoids.
We also suggest taking notes of any improvements the product has had on your overall health.
100% vegan, non-GMO elderberry, hemp-derived extracts, and allnatural ingredients.
Active ingredients: Elderberry; Broad Spectrum Hemp Extract. Other ingredients: cane sugar, tapioca syrup, distilled water, pear juice concentrate, citric acid, organic coloring, all-natural flavoring.
We use 3rd party laboratory to ensure every batch of our products for consistency, purity, and potency.
See Certificate of Analysis here.
* These statements have not been reviewed or approved by the FDA. Our products are not intended to cure or treat any illnesses. Please always consult your healthcare provider and use it at your discretion.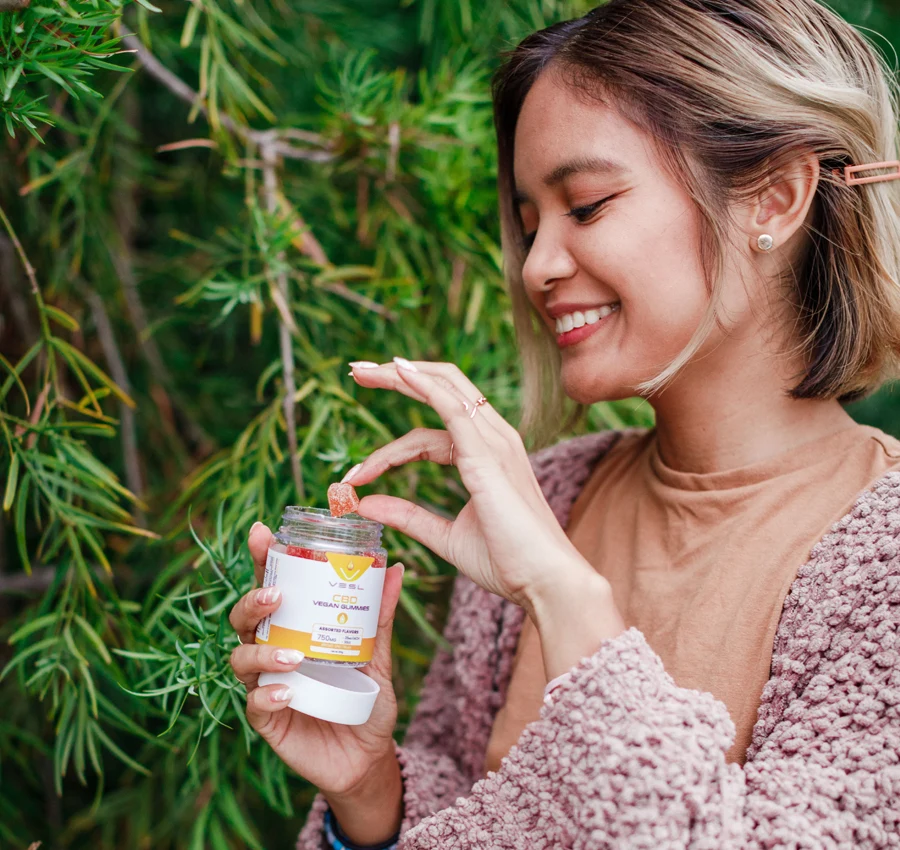 IMMUNITY GUMMIES, THE NATURAL WAY
When formulating this product we wanted to add an immune boosting power-house, so naturally, Elderberry was our go to. The positive impacts that Elderberry has on your immune system & overall health is well documented. Mankind has know these benefits for thousands of years, and elderberry extracts are among the most ancient of natural medicines. Elderberries are packed full of antioxidants that are known to activate a healthy immune system response. These antioxidants will also fight off free radicals in the body helping slow oxidized stress on a cellular level. The pigments that gives this product such a beautiful color are called anthocyanins and they may have the ability help fight off colds, flus, and even some influenza strains! Talk about an amazing all-natural way to maintain a healthy immune system and help reduce oxidation in the body.
Through making our amazing hemp products and receiving so much feedback on how our CBD gummies have help thousands of people world-wide we have see the impact that taking control of your health really has towards your long-term goals of maintaining your wellness. Our cannabinoid products are designed with your longevity in mind. We have designed a wide array of hemp-based gummies so you can start to take control over your health and not rely on pharmaceuticaldrugs. Our bodies are designed to heal and protect itself naturally, we just need to give our bodies what they need to operate at a high level. Cannabinoids are one of the most effective compounds we can consume to achieve just that.
FAQS
Broad Spectrum Hemp Oil is a highly refined extract that comes from high-quality hemp flowers. The term "broad spectrum" means that this extract has been striped of and Delta-9 THC in its natural form in the original extraction. As a naturally occurring compound in cannabis and hemp this term typically refers to the oil containing non-detect levels of delta-9 THC.
No, they will not. However, CBD, CBG, and CBN all have calming effects on the body. It is not uncommon to real "grounded" or "centered" when consuming any cannabinoid products.
These gummies contain non detect levels of delta-9 THC. If you are concerned with delta-9 THC being present in your system on a personal screening – you should consult your screener before using hemp gummies or any hemp products.
Yes you can! This product is legal under the Federal Farm Bill and contain CBD, CBG, and CBN Oil that is derived from hemp.
This product will ship to any location where the sale and transport of full spectrum hemp products is allowed. This is most places on the planet at this time, however please research the legalities in your state to be sure.
One serving is 2 gummies, take daily or as needed. They taste really good, don't eat the whole bottle at once please.
* These statements have not been reviewed or approved by the FDA. Our products are not intended to cure or treat any illnesses. Please always consult your healthcare provider and use it at your discretion.