We call breakfast the "most important meal of the day" for a good reason. So we put together a list of plant based high protein breakfast ideas that will help you jump-start your day. Plus, we've added CBD and CBG to these recipes! Cannabidiol (CBD) and Cannabigerol (CBG) are some of the cannabinoids known to provide many potential health benefits.
Eating a healthy breakfast before you start your day will give you the energy you need to get things done and will help you focus at work or school. It also restores the glycogen levels that the body used up while sleeping and kick-starts your metabolism. In addition to that, breakfast provides us with nutrients that we need to stay healthy such as protein.
Protein is found throughout the body. It helps build nails, hair, bones, and muscles. Our body needs protein each day to function properly and to maintain lean muscle mass.
Overnight Oats in a Jar
This recipe is perfect for you if you are always on the go. What is the best way to get a nutritious ready-made breakfast than to prepare it before you go to bed?
Protein per serving: 12g
Prep time: 5 minutes
Servings: 1 jar
What to prepare:
½ cup of rolled oats; about half the jar
2 tsp chia seeds
2-3 tbsp soy yogurt
cup almond milk or any milk of choice
1 tsp maple syrup
a drop of CBD oil – vanilla
1 tbsp of chopped almonds
½ cup of fresh or frozen raspberries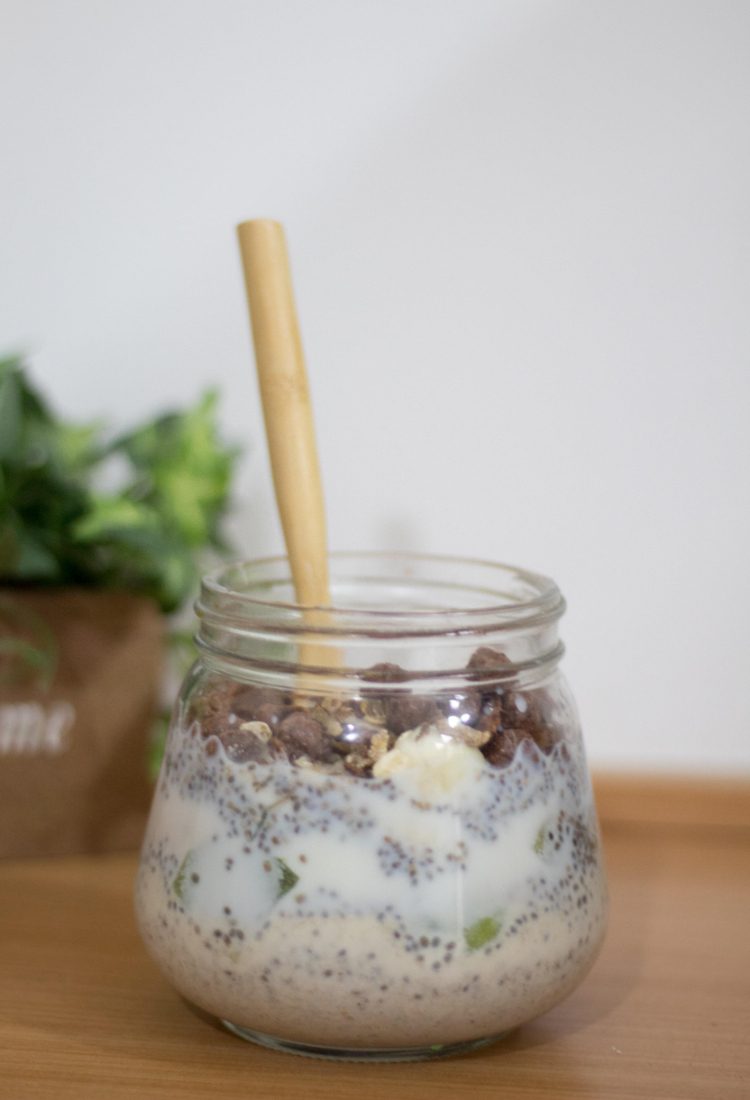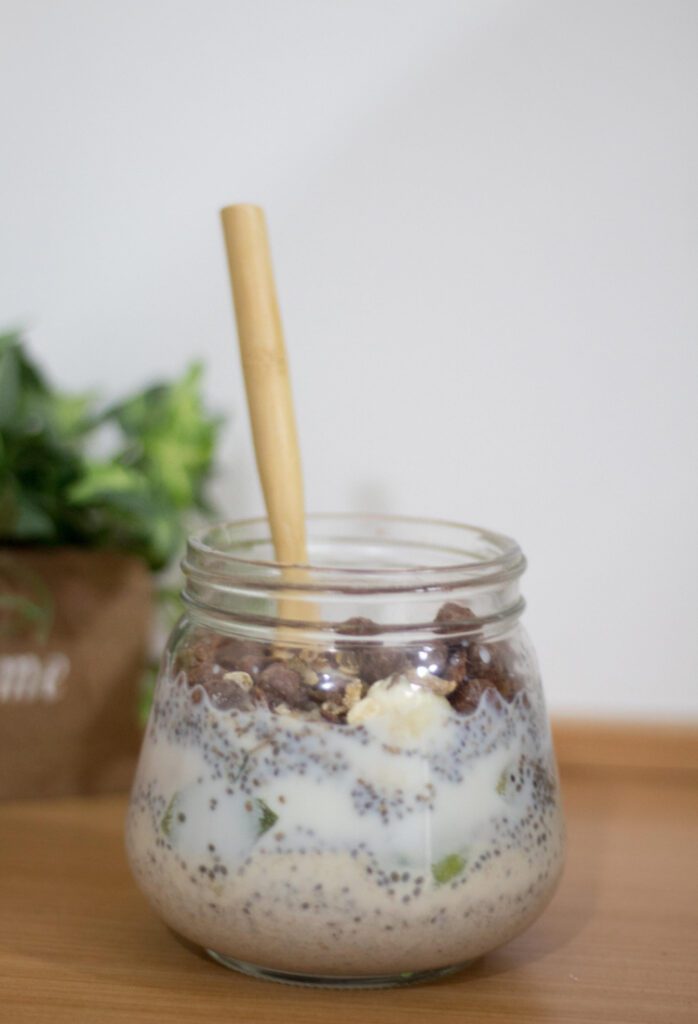 How to make it:
Place the oats, chia seeds, yogurt, and almond milk into a jar.

Stir until they are completely mixed together. If your jar is bigger enough, you can also close it and shake it until the contents are mixed together nicely.

Then put it in the fridge for at least six hours.

To loosen up the mixture, add a little more almond milk the next morning.

Lastly, add the raspberries, maple syrup, CBD oil – vanilla, and topped it with chopped almonds.

Best served chilled.
Vegan Banana Pancakes
Your family will surely love these vegan pancakes! They are not just healthy and vegan, but also incredibly tasty!
Protein per serving: 21g
Prep time: 20 minutes
Servings: 4 pancakes
What to prepare:
a cup of rolled oats
1 cup of your favorite non-dairy milk
⅓ cup wholewheat flour
2 tsp baking powder
1 pinch salt
1-2 ripe, medium-sized bananas
1 tbsp of CBG oil – cinnamon
2 tbsp quinoa seeds
How to make it:
Add all the ingredients into a large bowl and blend them using a hand blender.

Spray or drizzle some olive oil in a non-stick pan then heat it using low-medium heat.

Pour in a small amount of the mixture. Best if you make it small and thick.

Put the lid on and let the pancake cook gently. When the side facing you starts to bubble, it means that the other side is done. So flip it using a spatula.

Cook the other side of the pancake. You'll know it's ready when its color is already light brown.

If you have a large pan then you can cook two or three small pancakes at the same time.

Serve it while it's still warm.
White Bean Scramble with Almond Bacon
Craving for a versatile breakfast that is vegan and flavorsome? Try this delectable recipe that is not just perfect for breakfast but also during brunch, light dinner, or even as a side dish.
Protein per serving: 32g
Prep time: 30 minutes
Servings: 2
What to prepare:
For the almond bacon:
5 tablespoons of flaked almonds
a teaspoon of tamari; you can also use soy sauce as a substitute
1 teaspoon maple syrup
a pinch of smoked paprika
1 pinch of cayenne chili pepper (optional)
For the white bean scramble:
1 tablespoon of CBD oil – unflavored
finely diced small onion or shallot
1 minced clove of garlic
¼ teaspoon each of ground cumin and turmeric
400 g (14oz) tin of drained and rinsed white beans, cannellini beans, butter beans or haricot beans
few handfuls of kale or spinach
1 red pepper that is cut into matchsticks
salt and pepper
How to make it:
For the almond bacon:
First, put and mix all ingredients in a small bowl.

Then medium heat and fry it in a frying pan for around 5 minutes until the bacon is crisp.

Lastly, set them aside on a plate. Make sure they've spread apart as this will help the almond bacon crisp up.
For the white bean scramble:
In the same frying pan, heat up the CBD oil – unflavored then add the onion and garlic.

Fry for around 10 minutes, until they become very soft.

Add the cumin and turmeric then fry for about a minute.

Put the white beans along with a splash of water or any kind of milk.

Leave for a few minutes until white beans have softened slightly. Then gently break the beans up into smaller pieces using your stirring utensil. If it's looking a little dry, add a little more water or milk.

Add the spinach and red peppers, and season them with salt and pepper to taste.

Cook for another few minutes until the spinach has wilted and peppers are lightly cooked but still retain some crunch.

Then serve onto plates, and sprinkle over the almond bacon.

Lastly, serve it together with other dishes such as salad, roasted potatoes, or baked sweet potatoes.
Shop our CBD Hemp Products