CBD Petcare for sale
*Contains 1000mg of CBD (Cannabidiol) | 12oz vol. | THC FREE
Omega-3 Fish Oil is full of EPA and DHA fatty acids, which are specific types of polyunsaturated fats important to your pet's health. At VESL OILS, we use the same high-quality CBD oil for our CBD pet care line as we use in our other products. We love our pets just like you, show 'em a little extra love with VESL CBD oil for pets.
Not All Hemp For Dogs Is Made The Same
A few things to be aware of when buying CBD for pets is realizing that there is a huge discrepancy between manufacturers in terms of the quality. Many of products that are out there on the market use extremely low grade hemp oil. Because CBD is so new to the market, many companies take advantage of the lack of education in the industry.
Many companies are selling products that contains virtually no CBD whatsoever. They are cheating their customers by using hemp seed oil that does not contain any cannabinoids (this is what CBD is) At VESL we use the highest quality nature ingredients because we love our furry friends just as much as you!
*For pets with sensitive digestive systems, use half the recommended daily amount for the first week.
Ingredients: Fish oil (anchovy), Pure CBD (Cannabidiol), Tocopherol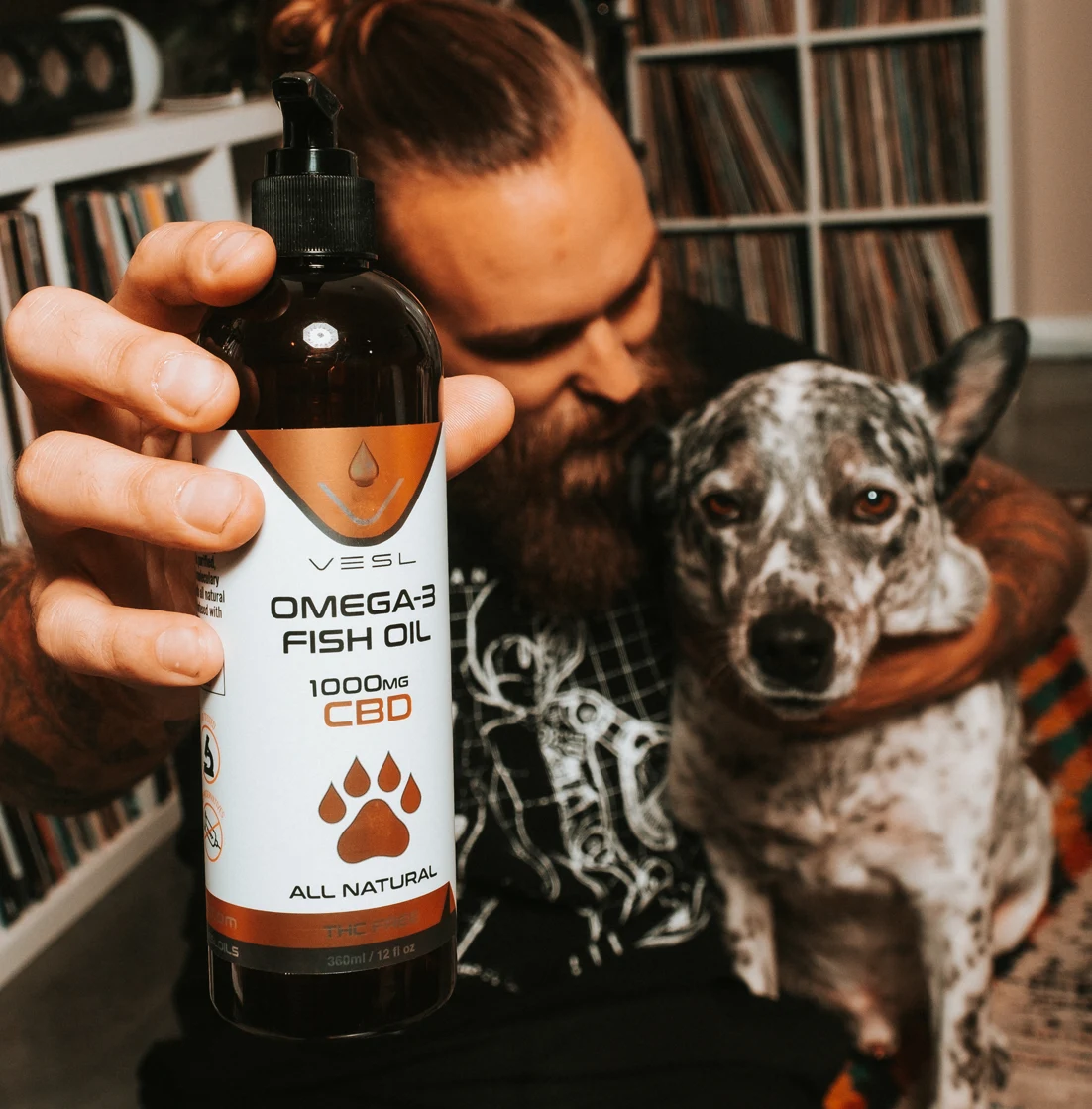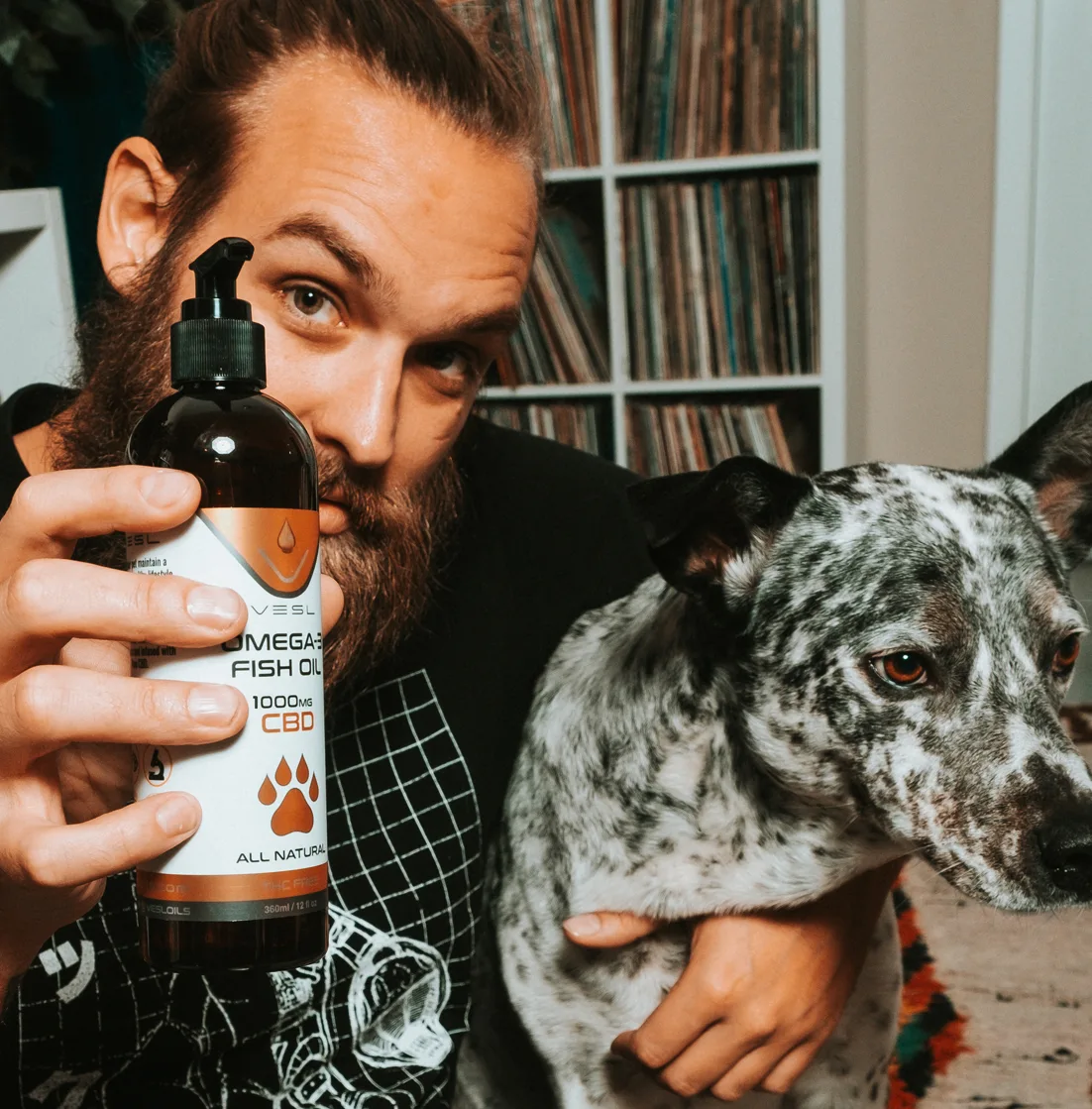 Cbd For Pet. How Does It Work?
CBD oil can have great effects on humans, but have you thought to buy CBD for dogs? Or did you ever think about giving CBD to your pets?
The endocannabinoid receptors and systems are present in nearly all living animals earth – including cats & dogs. Cannabidiol (CBD) works by interacting with your pet's system to keep them operating at a homeostasis level. This means you can give hemp CBD for dogs the same benefits as humans.
Our high-quality Omega-3 oil simply pumps on your pet's food at each feeding. Award winning, this is one of the top selling products in the CBD industry. VESL pet owners use our CBD for dogs to ease stress with separation, and symptoms that come with old-age. Omega-3 oil is packed full of natural fatty acids that are beneficial in many ways, this combined with pure CBD oil is a no-brainer.
Our satisfied customers simply give their pets a dose in the morning or at each feeding. CBD oil has worked great for improving their dog's mood, and giving them a better quality of life. Choose VESL hemp CBD for pets for young dogs or cats that suffer from separation issues. Our pets love us just as much as we love them. Whether you have to periodically board your pet, or have a daily routine that keeps you away from the home use our CBD for pets to help with separation issues. Separation issues is difficult for pets of all ages, veterinarians have realize that it can lead to complications over the long term. In many cases, CBD for your pets can provide a safe and effective way to help your dog stay calm while you're away.
Cbd For Pets How Much To Give Them?
When you buy CBD for pets, it can be tough knowing exactly how much CBD to give them. How do you know if the amount you are giving them is even working at all? These are just a few reasons why we've spent so much time developing our CBD pet care formulas, which we believe are the best in the industry. We've created two different CBD products to offer your pet a natural and safe way to reap the benefits of CBD. No matter the size of your dog or pet you can easily give them a proper amount based on their weight.
We suggest a single CBD pump of oil for dogs 20 lbs and under. Above this size, you may want to start adding approximately +1 pump for every 20 lbs of weight; in other words, a 30 lb dog would get 1.5 pumps, an 80 lb dog would get 4 pumps of oil per day. For reference, our recommendation is printed on the bottle. Improving your dog's mood, or giving them a better quality of life. Many pet owners have also chosen to use VESL hemp CBD for pets for young dogs or cats. Whether you have to periodically board your pet, or are away from the home, use our CBD for pets to help. Separation issues is difficult for pets of all ages. Veterinarians realize stress can lead to complications over the long term.
Have Questions on CBD Pet Products?
Pet Cbd Faq
We use the same high-quality CBD oil for our CBD pet care line that we use for the other CBD products we offer. Most companies are using a low-grade CBD oil for pets, we do not stand for this. Our pets are family and they should always get the highest quality CBD oil. If you have any questions please email or call our customer service line. It is suggested you consult a veterinarian before using CBD for your pet, as each animal is different. Our CBD for pets is designed for mammals that have an endocannabinoid system.
Studies have shown that CBD may be able to help manage some anxieties. FDA is not currently regulating CBD yet, but VESL OILS doesn't cheat our customers. We take it upon ourselves to make sure that people are getting the best CBD available. All mammals have an endo-cannabinoid system to help regulate bodily functions, so CBD works great for pets!
We can ensure that our products are grown using organic farming techniques and we are only interested in US-grown hemp. We guarantee that all our products are cruelty-free and free from any pesticides. Our CBD hemp is grown in Colorado and Oregon by some of the top hemp farms in the world. Our omega-rich fish oil is sustainably sourced and processed with certifications Friend of The Sea.
The best CBD online ever! VESL OILS make sure that we deliver on that promises every single day! As one of America's biggest CBD provider, we make sure that the formulation, production and monitoring of the products are done delicately. We continue to raise the bar by providing new and exciting flavors, new products and the best service a customer can get. Our CBD oil is THC free and we make sure to maintain it.
We provide an efficient way for your pets to get the benefits of CBD through our Omega-3 oils. Simply pump the oil on your pets food at every feeding.
There are many reasons why a pet owner would give CBD to their pets. With older pets, our customers suggest our CBD for pets helped them have a higher quality of life. Others use CBD oil for dogs to help those who have separation issues or old age. We must mention, none of our CBD products are not designed to treat or prevent diseases or any condition in pets or humans.
NO! The CBD oil we use in our pet cbd and cbd oil for dogs does not get animals or humans high, it is 100% THC free! Rest assured your furry friend will get the benefits of cbd for pets without any intoxicating side-effects. They love the omega-3 fish oil and this makes a great cbd for dogs and cbd for cats.