#1 trusted source for CBD!
We source only the highest quality ingredients you can get. This approach results in the best CBD products available. You can always trust that our products are 3rd party tested. Because of that, we can ensure the highest quality with all of the CBD Products we manufacture. Pure CBD tinctures contain the pure cbd oil, and have 0% THC; feel the effects faster, and none of the high! CBD is easily-absorbed by the tissues in our mouths, just drop the CBD oil under your tongue. Help stimulate your endocannabinoid system for a more balanced lifestyle!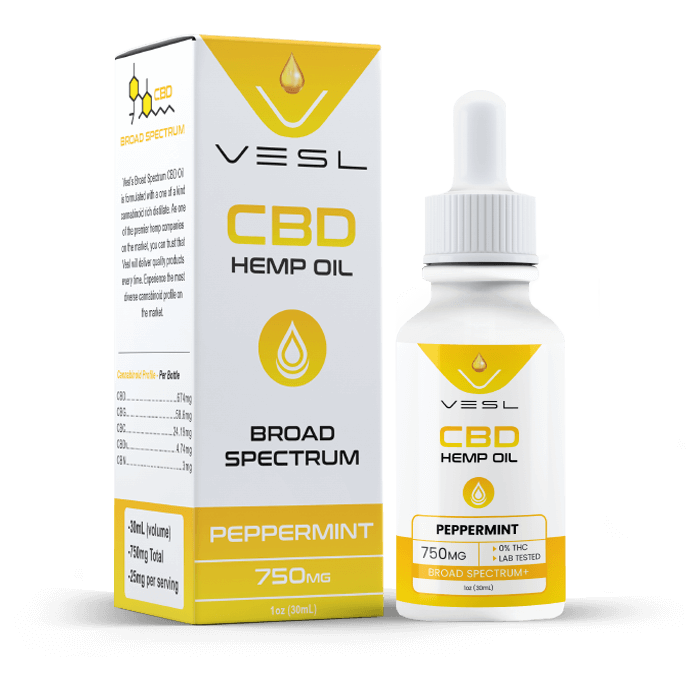 CBD Oil Peppermint Flavor 750mg
750mg of CBD oil. 25mg per serving
Certificate of Analysis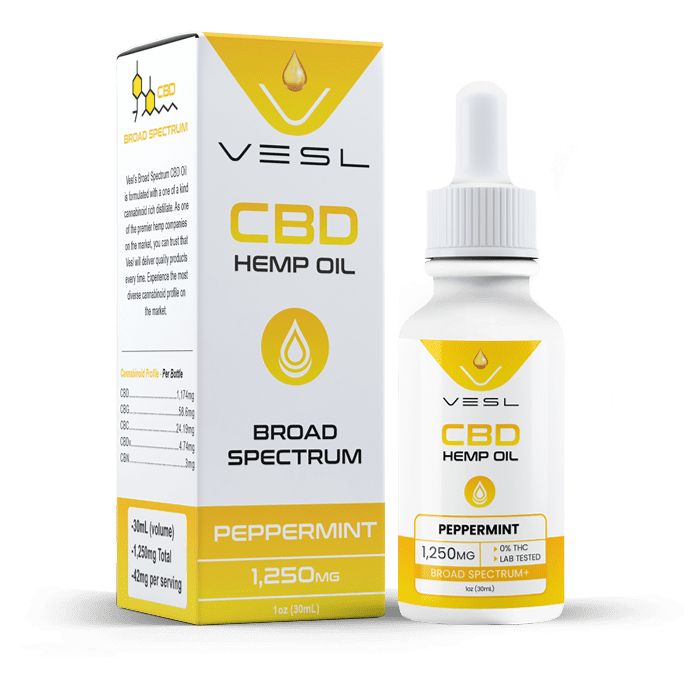 CBD Oil Peppermint Flavor 1200mg
1250mg of CBD oil. 42mg per serving
Certificate of Analysis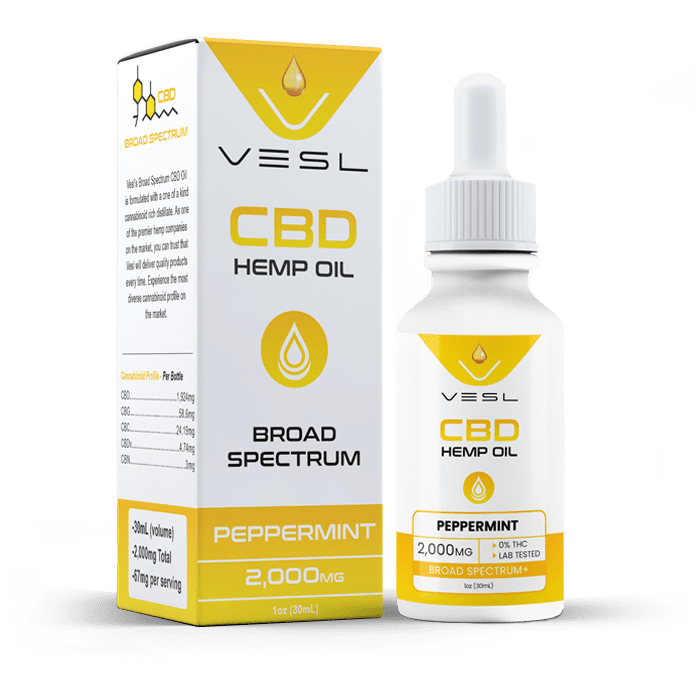 CBD Oil Peppermint Flavor 2000mg
2000mg of CBD oil. 67mg per serving
Certificate of Analysis
Cannabidiol Oil: The Basics
As cannabinoid work is continuing and products based on hemp are becoming more available everyday.
Explore our line of CBD and CBG oil tinctures. VESL offers flavored and unflavored versions, as well as formulas ranging from 750mg to 2,000mg. VESL OILS provides the highest grade hemp extract products and is one of the first companies to offer CBD OIL – PEPPERMINT.
USP grade MCT oil, Pure Peppermint Oil, Pure CBD (Cannabidiol)
SHAKE WELL. Use as desired, squeeze dropper under tongue & let sit for 20-30 seconds
Servings Per Container: 60
Suggested Serving: 1/2 dropper twice per day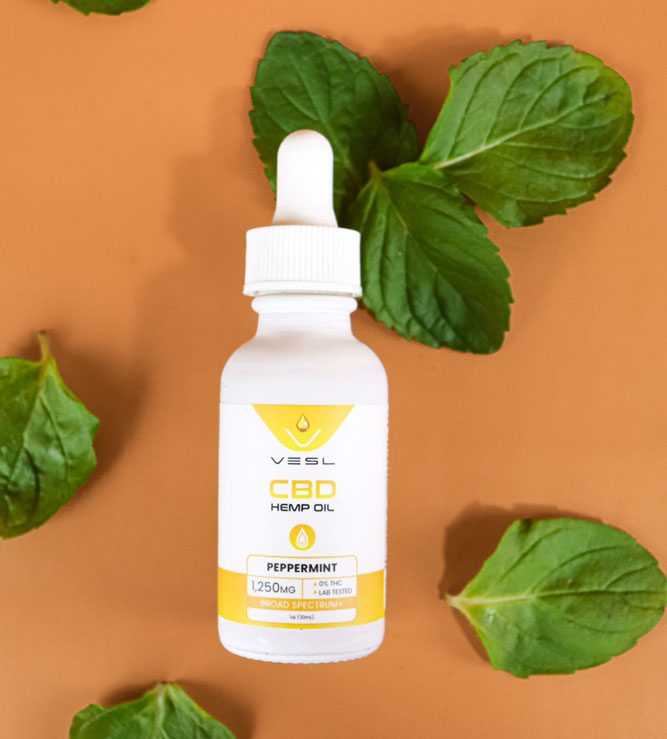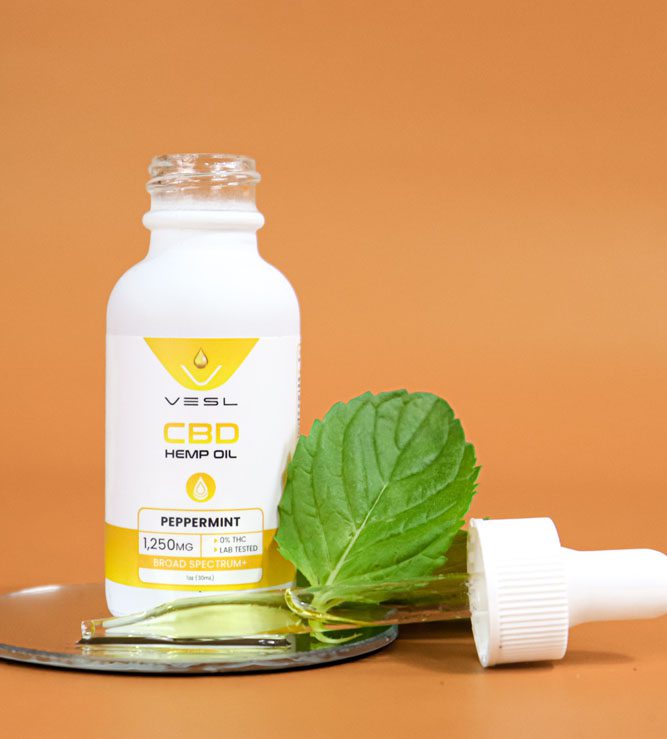 Why Choose Vesl Oils Cbd Oil?
All VESL OILS products are derived from industrial hemp produced in the USA. Quality goods apart from the competition; we are the most trustworthy suppliers with a brand you can trust. VESL will strive to retain the status as one of the world's best hemp firms.
We use only the highest quality ingredients in all our products.

We source organic, non-GMO, pesticide, herbicide, fertilizer, and chemical free ingredients.

We source our raw hemp from certified Farms in Colorado & Oregon.

We test samples from our products with independent, third party laboratories and always have up-to date batch testing available on our website.

We manufacture all of our own products in our 8,000 square foot manufacturing facility in Denver CO
Questions?
You can click the message box on the left side or visit our contact us page
Have Questions on CBD Oil?
Cbd Tincture Faq
The top testimonial our customers come to us with is a sense of calmness.They also say their day-to-day tension is better managed when they buy VESL CBD oil.Our CBD products are not intended to cure any form of medical condition.Keep in mind that the FDA has not yet approved CBD, but we always check our products in a laboratory to ensure consistency and potency.
Our customers use our daily CBD oil and CBD products to help keep their everyday wellness concept running.Some customers find that they obtain a relaxing experience using our CBD oil, in addition to a healthy sleep period.We must emphasize that our CBD products are not intended to treat or heal any disease or ailment.
With hundreds of companies offering CBD oil for online sale, it's difficult to decide which business to choose.Make sure that the CBD oil you purchase has been screened for pesticides and residual solvents; several companies take advantage of low-grade hemp oil that leads to lower-grade products.We only use hemp oil at VESL which is extracted from hemp grown in the USA.
You should be aware that thousands of customers have considered VESL CBD oils to be the best available CBD products.CBD affects each person differently and a wide range of testimonials are recorded every day because of this.Most people will find help with managing daily stress and improving sleep patterns.We would like to remind you that CBD oil is not governed by the FDA and we can not advertise our CBD oil as a cure or a treat
Our loyal customers state that our CBD is improving their idea of wellness! A higher quality of life is what we want to offer our customers. Per our customer's word, our CBD hemp oils work best to help improve relaxation & focus.
Our CBD products are not intended to cure any medical conditions.But what our customers feel is a general sense of calmness.On top of that, their daily stress tends to be better managed when they buy VESL CBD oil.CBD aren't FDA controlled.We aspire to be the best and to ensure accuracy and potency, our products are always tested in laboratory.
As one of the most sought after CBD brands in America, we continue to boost the bar in terms of consistency and variety of products. Our CBD oil is legal and free of THC in all 50 states. Trust with VESL OILS when you buy!
As reported, it can be extremely tough to try to differentiate one company from the next when you buy hemp oil online.Most labels are white label goods without the manufacturing passion behind them.We feel the best brands are producing their own products, identifying their ingredients from top to bottom, conducting third-party testing to produce solvent-free hemp.As reported, it can be extremely tough to try to differentiate one company from the next when you buy hemp oil online.
Our CBD tincture ships in an industry leading childproof b one ounce dropper bottles with a 1mL dropper for accurate measuring. We recommend "dropping" the oil under your tongue and holding it there for 30-40 seconds before you swallow. The tissue in our mouths is very effective at absorbing the CBD oil.
Our CBD tinctures come in four strengths and are offered in many different flavors. We manufacture a 300mg, 500mg, 1000mg, and a 1,500mg formula. Each tincture comes in a 30mL (1oz) bottle. The difference is the potency per mL. The range per serving is from 10mg to 50mg. Everyone will need varying strengths, but keep in mind with our CBD oil tinctures you can control the exact amount you are taking no matter what strength you choose.
CBD tincture and CBD oil are essentially the same thing.Along with pure flavor extracts, our CBD oil uses pure MCT oil as a container.These are sold as both CBD tincture and CBD oil.CBD oil is the most common CBD, and remains our group of top sellers.Experience the difference with VESL today!